Comedians face audience of sharks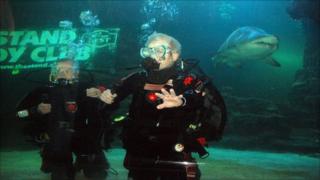 A group of Edinburgh Fringe comedians have faced a very scary audience as they went for a swim with sharks at Deep Sea World in North Queensferry.
The comedians from The Stand venue took to the shark tank in preparation for the Fringe season.
"The sharks are warming me up for the Edinburgh audiences," said comedian Sally Anne Hayward.
"Sharks are small fry compared to some of the monsters I've met in show business," she added.
"The great thing about swimming with sharks is they can't hold a pen and write a bad review," said funnyman Dave Fulton.
The comedians will be appearing as part of The Stand biggest ever Fringe line-up, which includes 46 shows every day across five venues.