Edinburgh Book Festival keeps up 'quality'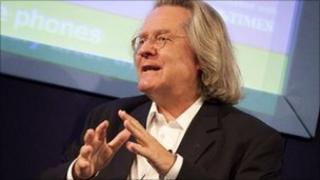 The Edinburgh International Book Festival begins later in the city's Charlotte Square Gardens.
The event, which runs from 13 to 29 August, will feature 800 events.
Festival director Nick Barley, now in his second year, said the festival had maintained its focus on "quality" rather than chasing celebrities.
Five of the authors on the longlist for the Man Booker prize will appear in the gardens, as well as local heroes Alexander McCall Smith and Ian Rankin.
Among the events to have sold out are authors Caitlin Moran and AC Grayling.
Broadcaster Melvyn Bragg and former prime minister's wife Sarah Brown are also among the writers appearing.
Other authors include Robert Coover, Tobias Wolff and Michael Ondaatje.
Scottish writers include Iain Banks, Ali Smith, William McIlvanney, AL Kennedy and Louise Welsh.
The festival will be opened by author Alasdair Gray, whose play Fleck, performed by a host of actors and writers, will also close the festival.
Mr Barley said: "Literature is the key part of it. If we went too far down the celebrity line we would lose what we are really all about.
"Nevertheless, there are some well-known names coming along.
"Pamela Stephenson Connelly and Alexei Sayle are coming, not because they are celebrities, but because they have great stories to tell.
"They can be seen alongside world famous novelists and poets such as Carol Ann Duffy and AS Byatt."
Mr Barley added: "There are other people who have got more surprising stories perhaps such as John Hartson, the former Celtic player who went down with testicular cancer after finishing his career. He wants to tell us about that illness."
The director said the children's section was also "fundamental" to the festival.
Children's Laureate Julia Donaldson, famous for books such as The Gruffalo, is the Guest Selector of the Children's Programme.
Mr Barley said: "We are also particularly keen on authors who are aiming at young adults and teenagers. People like Patrick Ness, who just recently won the Carnegie medal."
Last year saw a small dip in ticket sales for the festival.
The director said: "Ticket sales are tracking almost exactly the same as last year. So we are very pleased with that, given the recessionary nature of our times."