Scottish police 'ready to help' tackle London riots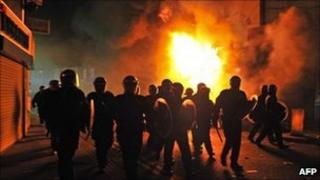 Scottish police forces are on standby to help tackle rioting and looting in London and other English cities.
The Association of Chief Police Officers in Scotland (Acpos) said it had been in contact with colleagues south of the border during the unrest.
It said Scottish forces would consider and respond to requests for assistance.
The Scottish Police Information and Co-ordination Centre will look to identify available officers and equipment if any requests for help are made.
Trouble flared in London on Saturday after police shot a man dead in Tottenham.
A peaceful protest over the death of Mark Duggan, 29, was followed by violence which spread to other parts of the city on Sunday.
A third night of unrest saw violence spread outside London to Birmingham, Liverpool, Nottingham and Bristol.
The situation has prompted Prime Minister David Cameron to cut short his holiday and return to Britain to chair the government's emergency Cobra committee.
BBC Scotland understands that while no formal requests for resources have been made to Scottish forces, there has been a request for what is called "scoping" to take place.
This is a process where the Scottish Police Information and Co-ordination Centre looks countrywide at what resources are available and could be sent should an appeal for help be received.
Acpos president Chief Constable Kevin Smith said: "We have been in contact with our colleagues in the Association of Chief Police Officers.
"As part of tried and tested mutual aid arrangements we will consider and respond to any request for assistance to be provided by Scottish forces.
"Such requests are handled by the Scottish Police Information and Co-ordination Centre which is in a position to match requests for assistance with availability of officers and equipment from Scottish police forces."
A spokesman for the Scottish government said: "The cabinet secretary for justice has spoken with Chief Constable Kevin Smith president of Acpos, we remain in touch with all the relevant authorities in Scotland and have full confidence that our police forces have appropriate contingencies plans in place."