Free running goes indoors at Fringe
Free running, the ultimate outdoor urban pursuit, is being brought indoors at the Edinburgh Fringe.
Instead of running along walls and leaping from building to building, 3RUN have taken their discipline from the concrete passageways of the city landscape to the Underbelly's purple cow tent.
Michael Wilson, one of the eight performers in the show, said it had been a challenge to move this unrestricted outdoor activity into a small indoor space but they were really pleased with the result.
Wilson said the group, who are Basingstoke-based, had worked hard to fit in as much action as possible and they had improved their fitness to be able to perform their acrobatics for a full hour.
The 29-year-old said: "Before this show we were used to 10-minute shows as a maximum.
"We have blown that out of the water and we are now doing an hour-long show of full-on parkour, free-running action.
"It is a lot of stress on the body but we condition ourselves in a way that we can cope with that.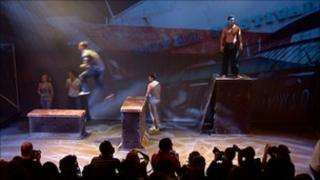 "We are actually more fit now than we've ever been."
Free running is derived from parkour, which Wilson describes as "going from A to B as efficiently as possible", which would involve jumping across roofs rather than taking the lift.
Parkour purists think free running, which employs more flips, tricks and acrobatics, is not sticking to the philosophy.
But Wilson, who was an international gymnast until a couple of years ago when he switched to free running, said they shared the same level of discipline and commitment.
He said: "It is a discipline for us. You are developing your skill levels.
"People don't realise or understand what it is about.
"When you watch our show you will realise, it is a way of doing something with your life."
One major difference between gymnastics and free running is safety.
"It is as safe as you make it," says Wilson.
"We always recommend to new beginners that they go to a gym environment. Start low and go higher. Never get outside your comfort zone too soon.
And injuries?
"We've had niggles here and there," he says.
"A few twisted ankles, sore knees and shoulders but we just carry on."
World records
In addition to Wilson, 3RUN includes Fabio Santos, brothers Cane and Cole Armitage, namesake but no relation Mat Armitage, Scott Young and Shaun Andrews.
The sole female is martial arts expert Ruth Hallet.
The group's founder Chase Armitage is not with the group at the moment due to film work commitments.
Wilson himself has appeared in both parts of the Harry Potter Deathly Hallows finale and in Pirates of the Caribbean: On Stranger Tides.
Between them, the group holds 15 Guinness World Records and has one of the most watched channels on YouTube.
Wilson does not know what is next but it seems highly unlikely they will be forced to go back to the streets.
Free run is at the Underbelly Pasture until 29 August.