Oxfam appeal match at Celtic park raises £300,000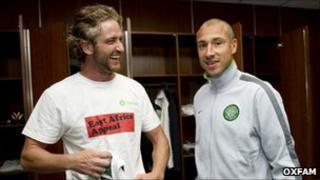 Football "legends" have thanked fans for helping to raise more than £300,000 from the Oxfam's East Africa appeal match at Celtic Park.
Former Celtic player John Kennedy donated his share of the gate receipts from the game, originally his testimonial match, to the appeal.
The Legends match saw former players from Manchester United and Celtic joining celebrities.
It ended Celtic Legends 5 - Manchester United Legends 2.
Around 55,000 fans attended the match and saw former Celtic player Henrik Larsson, who scored a hat-trick, play along side Hollywood star Gerard Butler and other celebrities.
As well as Mr Kennedy's donation, funds were raised through donations on the night, SMS text messages from the audience watching at home, online donations through the Oxfam website, and a charity auction.
The match was originally planned to raise funds for the Celtic Charity Foundation and for John Kennedy whose career has been cut short due to injury.
Wales striker and Celtic Legend John Hartson said: "It wasn't just a game of football, but an amazing way of helping out families in East Africa who are still desperately in need of the most basic things, like water, food and shelter."
'Fantastic night'
Head of Oxfam Scotland, Judith Robertson, said: "I want to thank everyone who played in, organised, or simply came along to watch the match.
"It was a fantastic night's entertainment, and a reminder of the real difference football can make in the world.
"People have been really generous, and I'm delighted to say we've raised £300,000 so far."
Oxfam is appealing for £50 million in order reach three million people in East Africa with clean water, food and basic sanitation.
The charity says more than 12 million people are fighting for their lives now because of a severe drought that has hit parts of Kenya, Ethiopia, Somalia and other countries in the region.