Clydebank hospital uses new technique on heart patients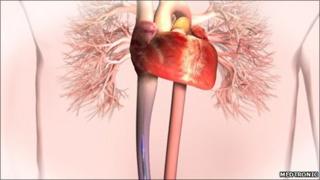 A pioneering procedure for heart patients has been made available in Scotland for the first time.
Doctors at the Golden Jubilee National Hospital in Clydebank have started using the technique to replace the pulmonary valve.
They have been able to avoid the need for open-heart surgery by sliding the replacement valve into place through a vein.
The introduction of the procedure has reduced recovery time for patients.
Younger patients at the Royal Hospital for Sick Children, at Yorkhill in Glasgow, have also benefited from the technique.
Dr Nikki Walker, who carried out operation, said: "The veins that connect from the leg up into the heart are actually in a relatively straight line.
Optimum position
"That allows you to pass a catheter with a wire in it that acts then like a railroad through which you can pass balloons or the valve itself.
"There's an inner balloon and an outer balloon that lets you mould it into the optimum position within the heart and then, as you deflate the balloon, the valve starts working immediately."
One of the first patients to undergo the procedure was Ernie Donnelly, who has in the past undergone more conventional operations.
He said: "I woke up twice after heart surgery and I can say I was in pain."
But he found the new technique quite different.
"Elation wouldn't be a strong enough word because I really couldn't believe it," he said.