Edinburgh International festival defends China cash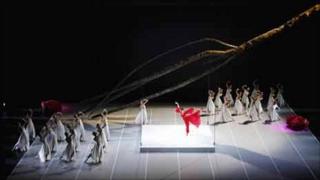 The Edinburgh International Festival has defended bringing artists to the city who have received cash support from the Chinese government.
Amnesty International Scotland said Chinese authorities had recently clamped down on freedom of expression.
It said China was using the festival to promote its image abroad.
The festival said the Chinese government funding was going directly to the two national companies involved to help bring them to Edinburgh.
It said it did not know how much support was required to pay their expenses.
The National Ballet of China and the Shanghai Peking Opera Troupe are two of the main attractions at this year's festival, which has an Asian theme.
Amnesty International Scotland director John Watson said the treatment of artist Ai Weiwei was typical of the way the Chinese government treated anyone who stepped out of line.
A source close to the artist told the BBC last week that Ai Weiwei believed he was "close to death" during the 80 plus days he was held in a secret police detention centre.
Beijing has banned Mr Ai from speaking to the press since his release.
Mr Watson said: "It's ironic in the extreme that they should choose such a riotous celebration of free speech like the Edinburgh Festival to promote their image abroad.
"It's not for Amnesty International to say where the Edinburgh International Festival should get its money from.
"But it is our job to expose governments that abuse the rights of their people, and China's human rights record is nothing short of appalling."
A spokeswoman for the festival said it was quite usual for governments to help finance visits to the festival but the EIF itself had received no money from the Chinese ministry of culture.
She said discussions about freedom of expression in China would take place in a series of debates being held during the festival.
Productions of The Peony Pavilion and The Revenge of Prince Zi Dan are two of the most important events of the three-week festival, which begins on Friday.
Festival director Jonathan Mills said he was trying to build an "exquisite bridge" between the cultures of Asia and the cultures of Europe.