Scottish government move to end free plastic bag use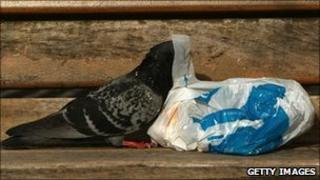 A move to end the use of free supermarket plastic bags has been launched by the Scottish government.
Ministers said they were a "scourge" on the environment and have not ruled out bringing in new laws to tackle the issue.
Environment Secretary Richard Lochhead said, despite a reduction in plastic bags in the last few years, their use was now on the rise.
A government consultation is being launched to find a solution.
Figures from 2009 showed the number of plastic bags handed to customers by Scottish supermarkets had almost halved in three years, after seven supermarkets signed up to a voluntary Scottish government scheme.
But Mr Lochhead raised concern after the latest figures indicated a rise in the prevalence of single-use, plastic carrier bags, which can take up to 100 years to biodegrade.
He said: "Plastic bags are a scourge on the environment and a blight on our streets, our countryside and our seas - that's why we are so determined to drastically cut back on their use.
"It's hugely encouraging that so many people are now taking this issue seriously, and over the past five years we have seen a lot of progress in cutting plastic bag use, both by shops and shoppers.
"We want to phase out the use of free plastic bags in supermarkets, with the continued help of retailers."
In 2006, the Scottish Parliament's environment committee voted unanimously against plans for a 10p levy on plastic carrier bags at supermarket checkouts.
Former Liberal Democrat MSP Mike Pringle proposed the charge, but MSPs said it would not work on its own.
Since then, several supermarkets have encouraged customers to buy re-usable bags, or introduced charges of their own.