Critics score victory over comics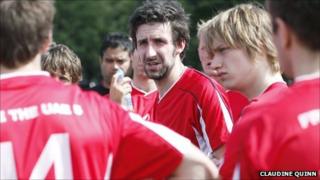 The critics had the last laugh when they took on a team of comedians in a football game at the Edinburgh Fringe.
The funnymen put in a one-star performance and lost to the critics 7-3 in the match, which was organised by Amnesty International.
Comedian Mark Watson said: "Losing to the critics is a bitter blow, to be honest.
"But we'll be back stronger next year and maybe we'll have to try bribing the ref with a donation to Amnesty."
Both teams played in shirts bearing the slogan "Free the UAE 5".
This was a reference to Amnesty International's Edinburgh Festival campaign for five online activists detained in the United Arab Emirates and charged with "insulting officials" after calling for democracy and criticising the government.
The comedians team also included Edinburgh Comedy Award winner Tim Key and Scottish rising star Daniel Sloss.
Other comedy players included Jimeoin, Carl Donnelly and Paul Sinha.
The critics team included Julian Hall of the Independent, Brian Logan and Michael Macleod from The Guardian and The Scotsman's Malcolm Jack.
Amnesty will be hosting a Stand up For Freedom comedy show on 17 August at the EICC.