Guy love for The Hoff and Scott Mills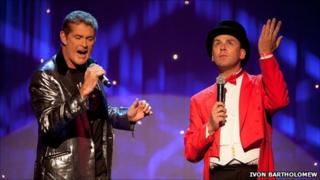 Britain's got talent judge David Hasselhoff put his own singing skills to the test when he got on stage with DJ Scott Mills at the Edinburgh Fringe.
The Baywatch and Knight Rider star was a guest host at Radio 1's Fun and Filth Cabaret at the BBC Bubble on Potterrow.
The finale of the live show was a duet between Mills and The Hoff of "Guy Love" from the comedy series Scrubs.
Hasselhoff's daughters Hayley, 18, and Taylor-Ann, 21 also performed at the show as double act Bella Vida.
Scottish rising star comedian Daniel Sloss and Australian musical comedy act Axis of Awesome were also on the bill.