Scottish rail users face 6% train fare rise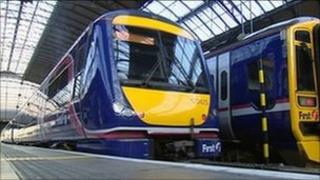 Train fares in Scotland could increase by as much as 6% next year.
The news came as increases of 8% in regulated fares were announced in England.
The change is due to come in following July's RPI inflation figure of 5%, which determines the rise in regulated fares, like season tickets.
Ticket price increases in Scotland will be RPI plus 1%, rather than 3% elsewhere. Operator ScotRail will decide on prices later in the year.
UK Transport Minister Theresa Villiers said "difficult decisions" on fares had been taken due to the budget deficit.
RPI inflation for July was unchanged at 5%, meaning the average UK season ticket will rise by about 8%, although some companies may charge more.
For the past few years, the formula for fare increases has generally been RPI inflation plus 1% - the arrangement which will remain in Scotland. However, for the next three years it will rise to RPI plus 3% elsewhere.
A ScotRail spokesman, said: "Under the franchise agreement, which runs to 2014, ScotRail is able to increase regulated fares by up to RPI plus 1%, and this remains the case for ScotRail fares for January 2012 onwards."