Taxing times for Scottish business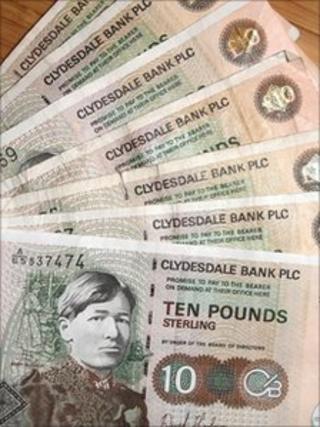 A bit like share prices, corporation taxes can go up as well as down.
But in recent decades, the increased mobility of businesses has pushed them down.
Today's Scottish government discussion paper on a separate Scottish corporation tax regime reminds us the UK rate was at 52% of profits in the 1970s, before a downward trend to the current rate of 26%, and further cuts to 23% planned by 2014.
Also a bit like share prices, tax revenue can go up as as well as down. Between 2003 and 2008, the corporation take rose on buoyant profits - particularly from banks - by a total 72%. It then fell back by 25%.
So, it's volatile. Not so volatile that finance secretary John Swinney has gone off the idea of getting power over it, of course. He points out it's only worth around £1 in every £16 to UK tax income, so Scotland could handle that level of variation.
The discussion paper goes on to make some bold claims about tax revenue going up if tax rates are cut. And while that could be the case, as business investment and relocation could be stimulated, it's not clear that it's guaranteed, particularly at the starting levels and in the international circumstances in which Scotland now finds itself.
Indeed, it's notable how cautious some of this discussion paper is on its way to an uncompromising endorsement of corporation tax devolution.
For instance, looking at studies across the OECD, the developed nations' club, it reports a link between lowered tax rates and increased growth rates, but adds, nervously:
"While such studies are difficult to interpret and apply directly to the Scottish context, they do suggest that there can be a link between corporation tax and economic growth, if used wisely".
So would it be used wisely? While the SNP government says it wants to use the powers to cut tax on business, weren't these the same ministers who wanted to take £30m more from retailers in last autumn's budget process.
As a sign of intent, John Swinney points instead to recent cuts in business rates for smaller enterprises.
Protecting services
But the default position across the Scottish Parliament's parties has been to defend public services and universal provision as the top priority. Business people planning their taxes may well wonder: whatever this government wants, what about the next government, and the one after that?
They may also look at what's happening to Ireland, often held out as the erstwhile Celtic Tiger example of business tax cuts - down to 12.5% headline rate - leading to increased revenue and booming growth rates.
It's hard to link Ireland's economic ignominy in the past three years to that low tax rate.
But its attempts to retain its tax advantage over other parts of Europe are under intense pressure. The eurozone leaders' deal struck on July 21 specifically links Ireland's bailout to its willingness to engage in a common corporate tax base.
That was further underlined today when France's and Germany's leaders proposed a common corporation tax across the eurozone.
There's little hint of that in this discussion paper, but it seems the room for manoeuvre on competitive tax rates - particularly, let's say, for a newly independent Scotland negotiating with European partners - is getting sharply reduced.
Punitive grant cut
So the discussion continues, with interesting ideas on how the downsides of separate tax regimes could be handled. And whatever the doubts, it's worth remembering they are handled in successful de-centralised nations.
But as I've written before, the role of the UK government seems to be particularly punitive in this debate.
When Scotland Secretary Michael Moore says Holyrood would face a £2.6bn funding gap, he seems to be assuming not only the consequences of a lower tax take at Ireland's 12.5% tax rates, but he's warning that the Treasury would pass on the full impact of its depleted revenue in a reduced block grant.
The Treasury reckons it would lose £2.6bn once businesses had re-located to a low tax Scotland, and some firms had skewed their accounts to look as if they had.
So it's threatening to impose a £1bn penalty clause, before the Scottish government even begins to raise any tax revenue.