Night of the long show at the Edinburgh Fringe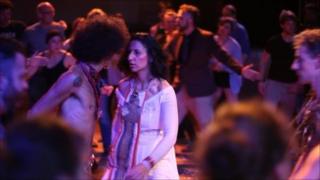 Of all the Edinburgh Fringe shows which involve the audience as active participants, one of the most ambitious must be Hotel Medea.
It is a six-hour extravaganza inspired by the Greek myth.
The marathon show starts at midnight, with the action unfolding throughout the early morning until its violent conclusion - just before breakfast.
All the while the audience are invited to dance, take part in rituals, hide in cupboards and, at one point, they are tucked up in bed and read a story.
The event is staged at Summerhall, a new Fringe festival space, which used to be Edinburgh University's Veterinary College.
The venue's artistic director Rupert Thomson had a huge task to transform the site, which still had a polar bear kidney in one of the display cabinets and bath tubs full of slices of dog when he first visited.
"It was an imaginative leap to see what this place could be," Thomson said.
"We've had a pretty thorough decommissioning with hard, hard cleaning to make this place suitable for the public."
For the creative team behind Hotel Medea it has proved to be the perfect place.
They needed somewhere large enough for the "promenade" performance, in which the audience moves around with the action and mingles with the actors.
The six-hour event takes us through the meeting of Medea and Jason, their marriage, Medea's discovery of her husband's infidelity and her bloody revenge.
But it is far from a traditional piece of theatre.
For director Jorge Lopez Ramos it was a chance to subvert, and disrupt, by creating a piece that was difficult to perform both logistically and financially.
He said: "It's part of trying to create events that don't exist first of all, to be able to host the audience in a wholesome way, rather than just present a play or to have a gig or to see them dance, or to see them eat, it's to have what would be a total event."
Persis-Jade Maravala who puts in an energetic and intense performance as Medea says staging the piece throughout the night is essential for the experience to work.
"It's very much about staying up together all night and that creates that sense of ritual, the sense of community and togetherness that we're always looking for through theatre."
Although the piece explores the boundaries of how far theatre can go with an audience, great care is taken to ensure all are comfortable, if anything Persis-Jade Maravala says it is the audience who push the cast further and further each time they perform.
For audience members Fiona Serle and John Kennedy, both from Edinburgh, the experience was well worth it.
Both said they felt surprisingly awake after the lengthy performance.
Fiona said the show was very different from what she had thought.
"I expected more horror and trauma, which it wasn't at all," she said.
"It was a really nice emotional journey to go on and I really enjoyed the camaraderie that develops amongst everybody."
John found it quite emotional.
He said: "It was a fantastic experience, I want to go and thank all the performers."
The next place where this Brazilian and UK collaboration - by Zecora Ura Theatre and Para Active - hope to take Hotel Medea is Korea, where local actors will be used to bring a third language into the mix of English and Portuguese.