Working out the jobless figures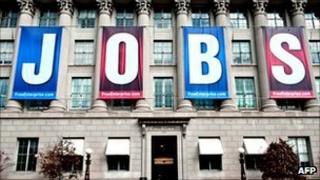 Something's going right for the Scottish jobs market, amid tough conditions.
Having lagged the rest of the UK on unemployment through last year, it's closed that gap, and some industry surveys report upbeat findings from recruiters.
Those job figures have confounded expectations since the start of the downturn.
With poor growth figures here and in export markets, and with consumer and government spending in retreat, a much tougher outlook might have been expected.
The latest official survey for April to June shows jobs are being created at a much faster pace than the rest of the UK.
Of the total 25,000 increase in jobs across Britain, Scotland accounts for 24,000 of them. But they look good for Northern Ireland too, up by 18,000, while England and Wales saw a combined fall of 17,000.
Pay attention
The figures don't explain the breakdown of nations and regions. North west England saw one of the worst falls in employment, while the north east saw one of the biggest increases.
Over the previous year's spring figures, Scotland put on 60,000 jobs, which is better than its proportionate share of 251,000 more UK jobs.
But the same survey found 1,000 more people seeking work - an apparent contradiction, as employment and unemployment are rising at the same time, explained by an increased number of people saying they're in the workforce.
That's the end of a winning streak going back to autumn on the numbers seeking work.
The monthly job figures get a lot of the attention, but it's worth noting the official pay figures.
Including bonuses, they're up by 2.6%, yet prices were up 4.4%, according to figures out on Tuesday.
That gap is the spending squeeze hitting many households harder than unemployment, and fuelling the sharp fall in consumer confidence that bodes ill for future job numbers.