Scottish garden bird numbers 'on increase'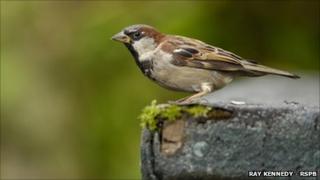 Many of the bird species commonly found in Scottish gardens have had a good breeding season, according to the RSPB.
A survey carried out for the charity by members of the public indicated increasing numbers in species such as robin, blackbird and song thrush.
The RSPB said the results suggested most of the birds have been able to withstand a very cold winter followed by a wet and windy spring.
The house sparrow remained the most common species in the 2011 survey.
One bird which was recorded less frequently was the wren.
Results from the Make Your Nature Count survey will be analysed by the RSPB to allow it to determine trends in bird populations.
Keith Morton of RSPB Scotland said: "It is fantastic that so many people have stepped up for nature and done the survey.
"On the face of it, despite the cold winter and wet and windy spring, this year's effort suggests that most garden birds bred in good numbers."
In addition to the house sparrow, the species making up the top five most commonly recorded were the starling, chaffinch, blue tit and blackbird.
The public were also asked to count other garden creatures including insects, mammals and reptiles.
Many people reported finding bats, frogs and hedgehogs.
Less common were the great crested newt and the grass snake.