BBC Scotland TV weather girls show off babies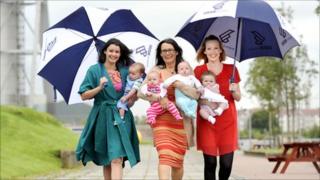 BBC Scotland's trio of weather presenters have been showing off four their little rays of sunshine who were born within weeks of each other.
Judith Ralston produced twins Max and Georgia, now seven months old Gillian Smart gave birth to Michael, now five months old.
Gail McGrane completed the set of new arrivals with Eilidh, aged five months.
Christopher Blanchett, Cat Cubie and Stavros Danaos are babysitting the weather bulletins on TV and radio.
Judith, Gillian and Gail all found out they were pregnant within weeks of each other.
After gathering for a photo call at BBC Scotland HQ in Glasgow, Gail said: "It was a pleasant surprise when we discovered we were all pregnant around the same time - and it's lovely to see all the children together for the first time."