Scotland's empty homes are a 'disgrace'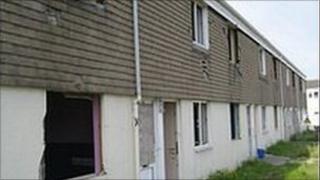 About 23,000 houses are lying empty across Scotland, while more than 160,000 households are stuck on waiting lists for properties, according to a charity.
Shelter Scotland is using a housing conference to call for action from politicians and local authorities.
The 21st Century Homes in Scotland event is taking place in Edinburgh.
The UK housing charity will demand more is done to tackle what it describes as a "disgraceful waste".
It is part of the Empty Homes Partnership, which is funded by the Scottish government.
It wants councils to make use of properties lying empty in their communities.
Kristen Miller, Shelter Scotland's empty homes co-ordinator, said: "With fewer homes being built, there is no end in sight for the tens of thousands of households in Scotland stuck on housing waiting lists.
"We urge council's to do all they can to make use of the houses they already have in their communities. Bringing empty homes back in to use has many benefits - it adds to the housing supply, contributes to local regeneration and supports rural communities and community safety."
'Chronic shortages'
The one-day conference, chaired by Scottish Federation of Housing Associations chief executive Mary Taylor and attended by council and housing professionals from across Scotland, will outline key challenges facing the housing sector in light of the changing financial and economic context across Scotland.
Ms Miller added: "It is encouraging that the Scottish government promised to extend the Empty Homes Partnership in their manifesto.
"Their commitment illustrates our belief that if protected and refurbished, empty homes can be a vital source of housing supply for communities suffering from chronic shortages of affordable housing."
The call has also been supported by the Scottish Liberal Democrats.
Their housing spokesman, Jim Hume MSP, said: "It is totally unacceptable that people in desperate need of a house cannot get one, but, perversely, there are houses sitting empty up and down the country."
Housing asset
A Scottish government spokesman said: "There are thousands of long-term empty homes across Scotland, located in urban, rural and island communities.
"They represent a wasted housing asset and have a negative impact on the quality of Scotland's cities, towns and villages.
"That is precisely why we are funding the Scottish Empty Homes Partnership."
Earlier this year the government announced that that councils would be given new powers to increase council tax on long term empty homes.
It is hoped this could provide more funding for affordable housing.
Since launching, 21 of Scotland's 32 local authorities have signed up to the www.reportemptyhomes.com website, where members of the public are encouraged to report empty homes in their communities.