Student leaders urge university principles to restrict fees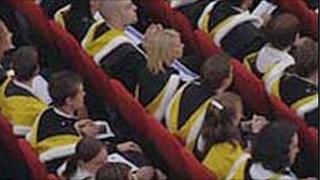 Student leaders have written an open letter to Scotland's university principals urging them to restrict fees to students from the rest of the UK.
Scottish students studying at home do not pay tuition fees.
But students from other parts of the UK are charged about £1,800 a year with that potentially increasing to £9,000 a year from 2012.
Scotland's National Union of Students has appealed for a minimal rise, with fee waivers for the least well-off.
NUS Scotland President, Robin Parker, said: "We are calling on principals to keep fee rises as low as possible in order to protect access, and I am sure that students will come down hard on any principal who decides to make their degrees more expensive than a degree in England.
"Under the new system Scottish student numbers are protected no matter what happens to demand from the students from the rest of the UK.
"We need to send the message to prospective students and their families in the rest of the UK that Scottish universities are open for business to them, and that their value is seen in academic terms, not in terms of the pound signs hanging over their heads."
A spokeswoman for the Scottish government said: "Scottish universities have already made clear that they intend to offer a range of bursaries and scholarships to make sure Scottish higher education remains accessible to learners from diverse backgrounds across the UK."
Alastair Sim, from Universities Scotland, said that "holding to the status quo" as fees go up to £9,000 in England would have been "catastrophic for Scotland".
He added: "No change would have meant Scottish universities become the cheap option for students looking to avoid high fees elsewhere which would have put tremendous pressure on places for Scottish students at Scottish universities.
"Scotland's universities want to continue to welcome students that live across the rest of the UK and will be sensitive to this, and other factors, in setting their fees."