Standing up with stamina at the fringe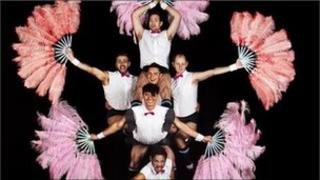 There's likely to be a collective sigh of relief when the Edinburgh fringe ends on Monday - not just for residents, but for performers too.
It's been a long month, especially for people who have more than one show at the fringe this year, so how do they have the stamina to keep on going?
Briefs is a collection of six acrobatic Australians who perform in an adult variety act by night and a pretend TV talent show for kids by day.
Compere Fez Faanana said: "The two shows are quite exhausting and physical shows. This being our first time to the UK, we had to earn our stripes here."
But this arts marathon takes a toll, especially when one show finishes after 2am and the other starts at 11:30am.
Briefs performer, Mali de Goey, said: "By the time we wind down after the show and get to bed, even if you're not out partying you get three hours."
Richard Shelton is probably best known for his role as the nefarious Dr Adam Forsythe in Emmerdale, but since his fictional death he's been reborn as both singer and actor.
Mr Shelton's had two shows at the fringe this year - both with a grounding in jazz vocals.
He said: "When you know you've got to get through something, you tend to do it. Your body takes over."
Even when comparing it to performing in the West End, where he was in Mamma Mia!, he said: "This is so much harder!"
Others take a militaristic approach to the fringe.
Stand up poet and comedian Tim Clare said: "When you finish it's like a very benign form of coming back from war.
"And there's nothing quite so motivating as knowing what you're doing is costing a huge amount of money.
"Some people only ever come up to the festival once and they have to take a loan out to do it."
Adrenaline hit
This year Mr Clare's been writing adhoc poems in a "poetry takeaway" trailer while performing in two night-time shows.
One evening show finishes at the same time the other starts. (He gets around this by running from one venue to the next).
But for him, as for most at the festival, it's worth it.
He said: "What you're getting back from it are these hits of adrenaline and serotonin.
"Every night you go on stage and you're nervous beforehand. What you essentially get back is a group of strangers giving you approval."