Officials try to contact Lockerbie bomber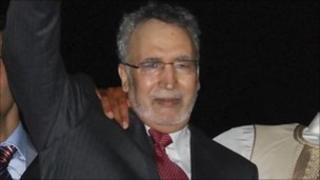 The man convicted of the Lockerbie bombing may have fled from his home in Libya as Colonel Gaddafi's regime crumbles, it has emerged.
Scottish officials have tried to contact Abdelbaset Al-Megrahi following the rebel advance into Tripoli.
Megrahi technically remains a Scottish prisoner released on licence and is obliged to remain in regular contact with East Renfrewshire Council.
The Scottish government said he was not due to contact them for some time yet.
It is understood that Megrahi - who was released on compassionate grounds two years ago - has not breached the terms of his release.
But social workers from East Renfrewshire Council have been endeavouring to contact Megrahi for days.
A Scottish government spokesperson said: "The Scottish government is in contact with the Libyan National Transitional Council in London, and any change in Mr Al-Megrahi's circumstances would be a matter for discussion with them as the new duly constituted and legitimate government of Libya.
"However, all of the information we have about Al-Megrahi is consistent with him dying of terminal prostate cancer, and he has not been in breach of his licence conditions.
"Contact with Mr Al-Megrahi by the criminal justice social work service of East Renfrewshire Council is not due for some time yet, and if his circumstances were to change then that would be a matter for us to discuss with the new Libyan authorities."
The job to monitor Megrahi became the responsibility of East Renfrewshire Council because his family had a home in the area when he was in Greenock jail.
Megrahi was the only man convicted of killing 270 people when a bomb exploded on Pan Am Flight 103 which was travelling over the south of Scotland town of Lockerbie on 21 December, 1988.