Scottish golf tees up £2m funding package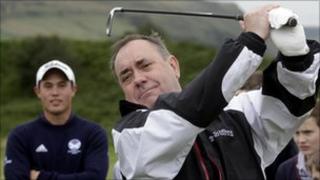 The Scottish government is to invest £2m into golf to try to attract more children to the game after the next Ryder Cup.
The golf tournament in 2014 will be played in Scotland for the first time in more than 40 years.
First Minister Alex Salmond said £500,000 would be ploughed into the game every year from 2014 until 2018.
The package builds on legacy plans for the 2014 tournament, which is to be played at Gleneagles.
Speaking at the Johnnie Walker Championship at Gleneagles, Mr Salmond said the 2014 Ryder Cup alone would generate an estimated £100m for the Scottish economy, while golf tourism was worth an estimated £220m to Scotland every year.
In announcing the funding package, the first minister also welcomed a donation of £19,500 from Gleneagles to the junior golf development programme Clubgolf.
Mr Salmond said: "Scotland is the undisputed worldwide home of golf. Encouraging the next generation of golfers is crucial.
'Lasting legacy'
"Clubgolf gives thousands of children in Scotland the chance to play golf, putting a club in the hands of every nine-year-old in the country and creating the possibility of golfing success at the highest levels.
"This continued investment by the Scottish government will ensure a lasting legacy from the 2014 Ryder Cup."
Gleneagles Hotel managing director Patrick Elsmie commented: "At Gleneagles we are proud of our commitment to golf development and to creating opportunities for the next generation of players.
"As the venue for Ryder Cup 2014, we are determined to ensure that hosting one of the greatest sporting events in the world helps to create a positive and lasting legacy for Scottish golf."
He added: "A crucial part of that legacy will be inspiring young Scots to take up the game of golf."