Fringe venues expect ticket boost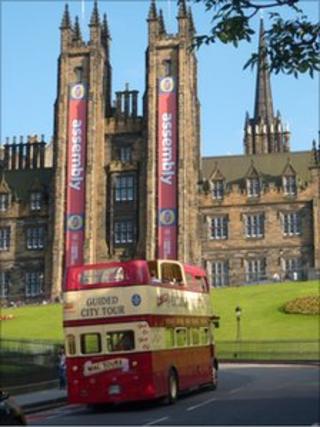 The Edinburgh Fringe is drawing to an end, with many venues expecting a rise in ticket sales.
Box office results will not be announced until lunchtime but some venues are already reporting an increase of 10% on last year.
In 2010 the three-week arts festival sold 1,955,913 tickets, a record total.
This August's poor weather and a greater concentration of venues in one part of the city do not appear to have had an adverse effect on ticket sales.
During the Fringe this year there were a record-breaking 2,542 shows, with about 21,000 performers presenting 41,689 performances in 258 venues.
But for a large section of the Fringe, ticket sales are an irrelevance.
More than 600 shows were staged for free this year - and they say they were busier than ever.
The Edinburgh International Book Festival is also drawing to a close on Monday.
The flagship Edinburgh International Festival will run for another week, culminating in the Virgin Money Fireworks Concert on Sunday 4 September.