Unison calls for talks over planned Quarriers pay cuts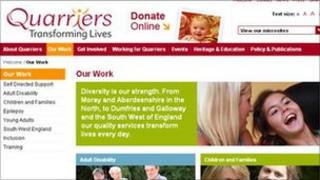 Social care charity Quarriers has been urged to enter arbitration after union members voted to strike over proposed pay cuts.
The Glasgow-based charity is planning changes to the terms and conditions of its 2,000 staff, including cuts to sick and maternity pay and making all future pay increases discretionary.
On Friday, 76% of Unison members voted in favour of strike action.
But the charity said its proposals were vital to protect jobs and services.
Unison - which represents 291 of the Quarriers staff - claimed that the plans would see more than 560 staff have their pay cut by 10% while others would lose up to 23%.
The union called on the charity, which provides support for adults with disabilities, children and families, troubled teenagers and people with epilepsy, to take the dispute to the arbitration service Acas.
'Unprecedented'
Unison's Quarriers branch secretary Stephen Brown commented: "The attacks Quarriers are making on our members are unprecedented. No-one can cope with a 23% pay cut.
"And for Quarriers to suggest that they will set up a hardship fund for its own staff, funded out of their own pay cuts, shows how much the organisation has lost touch with its values.
"William Quarrier set up Quarriers in the 1870s to help underprivileged children, not to use wage cuts to drive staff into poverty."
In a statement, Quarriers chief executive Paul Moore said its course of action was vital to protect jobs.
He continued: "We considered a number of alternatives including a proposal by Unison that would have led to almost 200 redundancies. We simply could not accept a proposal resulting in job losses.
"I understand it is difficult for anyone to accept a reduction in their salary. However, avoiding redundancies is our priority.
"The majority of staff will see their salary reduce by 3%. Staff whose salary is reduced by more than 3% will receive a payment of up to £1,000."
He added: "Robust plans are in place to ensure that continuity and high standard of services are maintained should its members take action."
The Scottish government responded to the latest developments by saying that continuity of quality care must be maintained.
It added it "would encourage all parties to continue discussions to resolve this matter at the earliest opportunity".
Quarriers was founded in 1871 by William Quarrier in Bridge of Weir, near Glasgow.
The organisation has an annual turnover of £40m.