Record ticket sales as Edinburgh Fringe draws to close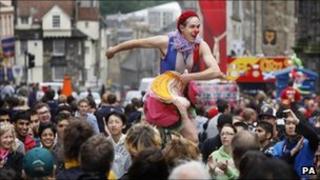 Sales of tickets at this year's Edinburgh Fringe are up by 3% on last year.
According to figures released by the Fringe Society 1,877,119 tickets were sold by its box office over the last three and a half weeks.
It is another increase on the record breaking sales achieved in 2010.
Poor weather during August and a greater concentration of venues in one part of the city did not appear to have had an adverse effect on ticket sales.
During the Fringe this year there were a record-breaking 2,542 shows, with about 21,000 performers presenting 41,689 performances in 258 venues.
Last year organisers said a total of 1,955,913 tickets were sold, however it emerged that venues offering free and unticketed shows were included in the figures.
Phenomenal success
This year the official sales figures do not take into account the number of people who attended free fringe events
Venues hosting these shows also reported a busy year with an increase in visitors of more than 40%.
Kath Mainland, chief executive of the Fringe Society, said: "We have issued almost 1.9 million tickets which is a phenomenal success, particularly in the economic circumstances which we are all faced with.
"We are absolutely delighted."
While the fringe draws to a close later, other festivals continue.
The flagship Edinburgh International Festival will run for another week, culminating in the Virgin Money Fireworks Concert on Sunday 4 September.
On Tuesday the book festival will stage a last day of invitation-only events for 3,000 school children.