Hundreds of Scottish nursing and midwifery posts lost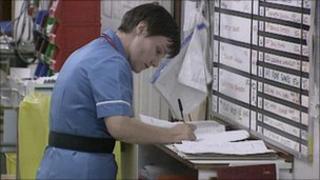 Almost 500 nursing and midwifery posts have been lost in the Scottish NHS between March and June, according to new figures.
The statistics come in the latest workforce projections from the Scottish government.
They show 486 nursing and midwifery posts were lost. There were also 23 fewer consultant posts.
Health Secretary Nicola Sturgeon said the reductions were due to changes in the way health care is delivered.
She also said 500 administrative posts were lost and progress was being made on reducing numbers of senior managers.