Figures warn one in three Scots will get cancer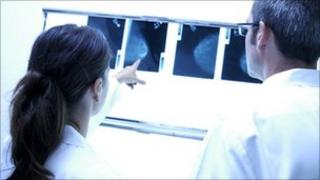 More than one in three people in Scotland will be diagnosed with cancer during their lifetime, based on current trends.
The latest NHS statistics, based on figures for 2009, also show that women are increasingly likely to be diagnosed with cancer.
Skin cancer has seen the biggest rise in new cases and is now the fourth most common cancer in women.
Lung cancer continues to be responsible for the largest number of deaths.
There has also been a continued rise in cancers related to obesity, such as uterine, kidney and liver cancer.
The Cancer Incidence 2009 report says that at 31 December 2009 there were about 153,000 people in Scotland living with a cancer that had been diagnosed within the previous 20 years.
Lifetime risk
It said the rise in the number of cases was likely to be largely due to an ageing population.
Improvement in diagnosis and better screening techniques are also said to have contributed to the increase.
Lung cancer is still the most common cancer overall, accounting for 17% of all cases. Breast cancer is the second most common with about 4,400 cases diagnosed in 2009.
There has been a dramatic rise in skin cancer during the past decade, with a 73% increase in cases in men and 70% jump for women.
The report also outlined the lifetime risk of cancer based on the latest statistics.
It said that about one in nine men and one in seven woman will develop some form of cancer before the age of 65, with the threat increasing to one in three men and one in four women among those aged over 65.