Uncorking whisky's premium bonds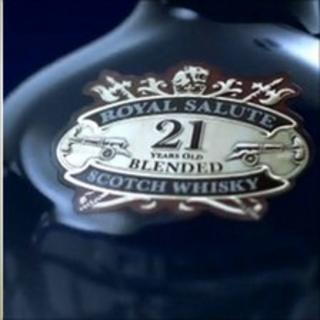 In the departure lounge Edinburgh Airport last week, I was looking for a bottle of whisky for a distant friend.
The airport's owner, BAA, takes advantage of the ban on liquids coming through security, so people like me are easy prey.
Its shop displays a range of super-premium and luxury options intended to draw consumers into the highest possible spend.
It makes it seem a cheapskate option to buy a litre of single malt for £35.
Several of the distillers are on this niche, premium and luxury bandwagon - taking the lessons from the success of differentiating all those single malt brands and splintering them even more.
French tipplers
Figures just out from Pernod Ricard show it's particularly keen on this strategy. The French drinks giant is second only to Diageo as a distiller of Scotch, while it has a range of other drinks and brands, including Absolut vodka and Beefeater's gin.
The company reckons it's got 20% of the Scotch market. Ballentine's is its big selling brand with particular strengths in Europe - passing one million cases in the French market, Scotch's biggest single export market.
According to the full-year results to June, growth was up in Asia, Latin America and Eastern Europe, meaning Ballentine's was up 8% by sales and 7% by volume.
Keep pushing up-market to the "super premium" sector of the market, where it positions Chivas Regal at around £25 a bottle, then you find the French company has got 30% of the market.
Chivas sales are up 9% over last year, and its premium 18-year old is up by 23%.
The Glenlivet single malt has reached 700,000 cases for the first time, growing sales by 14% globally.
Ultra-prestige
Push further up-market into "ultra-prestige", at £50 and above, and Pernod Ricard thinks it's got 45% of the market.
The brand its leading with there - Royal Salute - is viewed by most of us from behind glass in a locked display cabinet. Entry level price is £100 a bottle.
Top price for a bottle is, not accidentally, denominated in US dollars - 2,200 of them.
Unless, that is, you go for the diamond-studded bottle containing Royal Salute 'Tribute to Honour' bottling - apparently a tribute to Scotland's national honours, or crown jewels.
That's a blend from casks that have been ageing for at least 45 years. There are only 21 bottles available, and it'll set you back $200,000.
That Royal Salute brand is doing best of all for Pernod Ricard - up 27%, according to these most recent results.
Polo and minted
You won't see much more than the entry-level bottles at Edinburgh Airport. It's aimed at the super-rich who don't look at the price tag, but want their prestige brands to arrive king-sized.
Better to go to China, where growth in demand is strongest.
And if you're into polo - in China, India, Dubai, Brazil and the US - then you'll be aware of the marketing push behind it.
Indeed, Royal Salute managed to attach its name to the Duke of Cambridge's polo team on his recent tour of California. Developing that kind of niche may be paying off, but it doesn't come cheap.
Even at the lower end of its brand promotions, Pernod Ricard has pushed up promotional and advertising spend by 11% in the past year. Diageo is doing likewise, particularly to establish its brands in growing markets.
The French company even admits that, for its top 14 drinks brands, a quarter of sales revenue is spent on persuading us to buy the stuff.