MSP says households 'struggling' to pay energy bills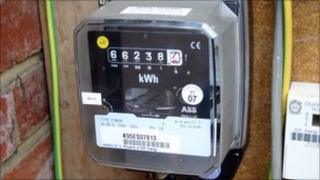 More Scottish households are struggling to pay energy bills due to rising prices, according to an MSP.
The SNP's Jamie Hepburn has obtained figures which show bills have soared in recent years.
The average household spent about 14% of income on gas and electricity in 2009, compared with 8% in 2004-5.
Citizens Advice Scotland (CAS) said that further increases in prices since 2009 was putting even more pressure on family budgets.
Mr Hepburn described the price increases as "scandalous" and called on the UK government to do more to help those in fuel poverty.
He said: "These hikes are hitting already under pressure households - many households have already reached the limit of what they can afford.
"People are really feeling the pressure from power companies and price rises.
"The UK Government needs to re-evaluate the energy market and start helping those in fuel poverty."
The averages have fluctuated between 4% and 7% since 1999 for gas and electricity.
In 2009, 7% of income was spent on gas and 7% on electricity, showing a steady rise from five years earlier.
The proportion of income spent on fuel had earlier increased from 11% in 1996 to 13% in 2003-4, but then fallen to a low of 8%.
Soaring prices
CAS chief executive Lucy McTernan said: "CAB advisers see the real human misery that exists behind these statistics.
"Indeed we feel the problem is, if anything, under-estimated by the figures revealed today.
"Gas and electricity bills have risen considerably since 2009 - including substantial hikes in the last few months."
She added: "People who are struggling financially face a very stark choice when faced with these high fuel bills.
"They either skip meals in order to pay the fuel bill instead."
Scottish Labour said the Scottish government had cut the fuel poverty budget by a third last year and urged the SNP to back calls to reinstate it.
Shadow Finance Secretary Richard Baker MSP said: "Soaring fuel prices effect every Scot, but they have a disproportionate impact on those who are on the lowest incomes.
"It is our duty to help the poorest and most vulnerable, who will be hit hardest by price hikes, through these tough times.
"The real scandal - that the SNP's Jamie Hepburn seems to have conveniently forgotten - is that it was the SNP government that slashed the fuel poverty budget by a third."