Scottish childcare costs 'highest' in UK, says charity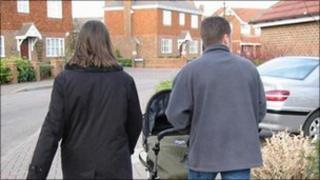 A new survey suggests Scottish families on low incomes are leaving work and turning down jobs because they cannot afford to pay for childcare.
The poll by Save the Children and the Daycare Trust said a third of families living on less than £12,000 a year had gone into debt due to care costs.
Save the Children's head of Scotland, Douglas Hamilton, said childcare rates in Scotland were the UK's "highest".
About 700 of the 4,000 UK parents polled were living in Scotland.
The charity wants more Scottish local authorities to adopt the statutory entitlement of 15 hours' nursery education for three and four-year-olds which operates in England.
A formal agreement to achieve this north of the Border has been delayed.
The charity also wants to see the introduction of an entitlement of 15 hours childcare per week for two-year-olds, starting with those families on the lowest incomes, and out-of-school care entitlement for five to 14-year-olds for children living in low income households.
Cuts to working tax credit has added an average of £500 per year to childcare costs for low income families, the charity said.
"Childcare is so expensive it's becoming a luxury that only families earning a very good wage can comfortably afford," said Mr Hamilton.
"For families on low incomes they simply won't earn enough to cover their childcare bill as well as living costs, making work an unrealistic option.
"The government must give the poorest parents a chance to work their way above the poverty line. We know that the best way out of child poverty is to help parents into jobs.
"Today's legislative programme provides an opportunity to take action to make a real impact on child poverty in Scotland."