Elderly care savings essential, says Lord Sutherland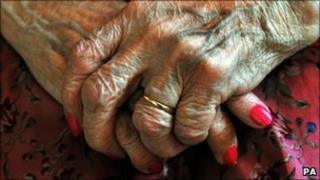 Integrating health and care services is "essential" to keeping up standards, the architect behind free care for the elderly has said.
Lord Sutherland warned an ageing population and the spending squeeze meant savings must be made.
Scottish government plans to transfer care for the elderly from councils to the NHS are expected to go ahead.
Lord Sutherland's comments came as he was questioned by Holyrood's health committee.
Under SNP plans announced before the election, about 38,500 staff would be shifted to health boards to provide a single point of access for patients.
The health service would take charge of organising home care for patients who need support after leaving hospital.
It is also hoped the proposals, to be taken forward by a "lead commissioning" group with £2m of backing, would save money and cut bed-blocking.
Council body Cosla is sceptical about the plan, while Labour, which backs merging health and social care into a new National Care Service, said the government's plans were too timid.
Lord Sutherland told MSPs: "I do believe that the integration of these two services is, in the medium and certainly long-term, one of the essentials for ensuring quality of care.
"I would strongly recommend that looking at the integration of these should be part of the focus of how you begin to deal with quality and sustainability."
The health committee has raised concerns about the balance of private and public care homes, as well as the care home inspection regime and training programmes.