Early planning to avoid repeat of Scotland's snow chaos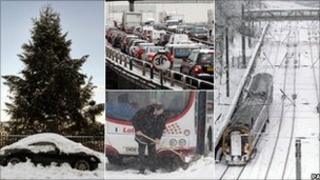 The first ever winter preparedness week is to be held in Scotland in October in a bid to avoid last year's widespread disruption caused by heavy snow.
The move was announced by Transport Minister Keith Brown at a winter planning exercise in Edinburgh.
He told delegates from the public and private sectors they should "hope for the best but prepare for the worst".
His predecessor Stewart Stevenson resigned last December over his handling of the extreme winter weather.
Mr Brown said: "Scotland has now experienced two severe winters in a row, with last year's becoming the worst in several decades. We have ensured that we use the lessons learned to improve our services.
Minimise disruption
"Extreme weather will inevitably cause disruption but we want to make sure we continue to advance our thinking and procedures and make improvements where possible to ensure we are best equipped to keep that disruption to a minimum.
"We want to keep people and goods moving, but also ensure that there is clear, coordinated information available. We all have our part to play."
The focus of Wednesday's exercise was to identify opportunities for closer working between the emergency services and public and private sectors.
Following the disruption in mid December 2010, the Scottish government announced an action plan for coping with further problems.
This included storing extra salt and grit at key locations on the national trunk road network for quicker access.
Traffic management resources, trunk road and motorway protocols, and emergency supply levels were also revised.
Mr Brown said this year's winter preparedness week in October, delivered in partnership with the British Red Cross, would build on last year's lessons.
He added: "The organisations represented here today are committed to prepare together, plan together and work together to minimise any losses of staffing, of income, of business, of essential services and to keep Scotland moving during the shortest and darkest days of the year.
"As well as the transport implications of severe weather, the continued provision of essential services to those who need them most also has to be a top priority.
"We will ensure that those who really are in need are brought quickly to the attention of those who can provide assistance."