Woman to sell £100k paintings from deceased employer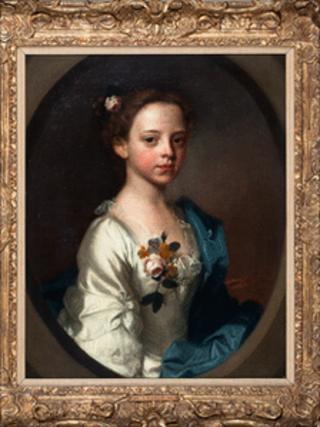 A secretary who was left two rare works of art from her deceased employer 40 years ago is set to make about £100k at auction in Glasgow.
The anonymous seller, now in her 90s, worked for businessman Charles Hepburn from 1936 until his death in 1971.
In his will, he left her a painting by 20th Century English artist Sir Alfred Munnings, and an other by Allan Ramsay - an 18th Century portrait painter.
He had said the gifts were a token of his gratitude towards his secretary.
Hepburn wrote in his will: ''... in token of my heartfelt appreciation of her lifetime of loving care and attention and of the most efficient and meritorious manner with which she discharged her duties throughout the best years of her life, never having been a day off her work or a minute late since she entered my services in Nineteen hundred and thirty six."
The paintings will go under the hammer at McTear's Auctioneers later this month.
'Exceptional condition'
Brian Clements, managing director at McTear's Auctioneers said: "This was a quite remarkable and generous gesture by Charles Hepburn as both Munnings and Ramsay are extremely influential artists.
"The condition of both paintings is quite exceptional."
Munnings' painting Zennor Hill, which features a horses and hounds hunting scene, has been valued between £80k and £120k.
Mr Clements continued: "Sir Alfred Munnings is considered one of the most accomplished British artists of the 20th Century and examples of his work can be found in many of the most prestigious galleries in the world and in numerous high profile corporate and private collections.''
The oil canvas painting by Allan Ramsay is said to be extremely important with its links to the American War of Independence.
The painting is the only known picture of the artist's daughter, Amelia, who was married to General Sir Archibald Campbell of Inverneil, one of the most prominent British officers in the American War of Independence.
It is believed to be worth about £30k to £50k.
Mr Clements said: ''This painting by Allan Ramsay has not been seen in public for a very long time and bearing in mind its subject matter and close connections with the American War of Independence it is likely to attract considerable attention.''
McTear's Autumn Fine Paintings sale is to take place in Glasgow, Scotland on 27 September at 18:00.