'Three bids' to launch local TV in Scotland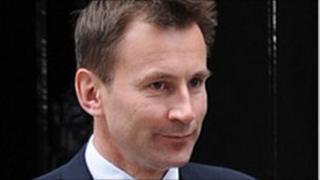 Three bids are being prepared to run local TV stations in Scotland, it has emerged.
The UK government believes local TV could address concerns that commercial channels may cut regional news output.
The government has revealed 65 areas in the running for local television, with nine locations earmarked in Scotland.
One company is certain to bid for Helensburgh and Ayrshire, while bidders in Tayside and Edinburgh are understood to have voiced an interest.
Westminster Culture Secretary Jeremy Hunt said that local TV could be "the glue that holds a community together" as he discussed plans for the new stations.
'More power'
There had been some scepticism as to whether the proposals are commercially viable.
But speaking at a seminar in Glasgow Mr Hunt said the prospect of local television had much to offer.
He said: "I'm a localist. I think that the UK is far too centralised and would solve far more problems if we harnessed the ideas of people in their own communities and gave them more power to have effective local media to scrutinise local politicians."
Mr Hunt compared local television stations in countries such as Canada with the prospect of local TV in Scotland, arguing that if local television can make a profit in Canada it could in the UK.
Mr Hunt said the cost of running a television station could be as cheap as running a local newspaper, with the government making the transmission spectrum fee "pretty much free of charge".
The culture secretary added that the spectrum covered 60% of the UK's population but that it was also hoped to roll out superfast broadband to 90% of the UK population by 2015.