Ken Macintosh joins Scottish Labour leadership race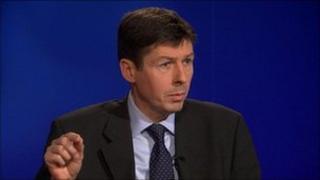 Another candidate has entered the contest to lead Scottish Labour after plans to shake up the party were endorsed.
Eastwood MSP Ken Macintosh said he would offer a "new voice" for Labour.
Current deputy leader Johann Lamont, who is MSP for Glasgow Pollok, has announced she will stand along with Glasgow South MP Tom Harris.
The contest was declared when current leader Iain Gray announced in the wake of the May election he would be going.
The Holyrood poll saw the SNP achieve an unprecedented overall majority in the Scottish Parliament, taking 69 of the 129 seats at Holyrood.
Labour went down from 46 seats to 37, losing some of its most senior figures.
University of Edinburgh educated Mr Macintosh has been an MSP since the parliament's inception in 1999.
Mr Macintosh said: "Devolution is the reason I got into politics. I believe the Scottish Parliament is there to build a stronger Scotland, but our party needs to do more to harness the potential of devolution to improve the lives of the Scottish people - this is my priority if elected leader.
"It's time to change the Scottish Labour Party. We need to be less top-down, have a strong positive vision and we must use the new young talent we now have.
"I know I can bring all sides of the party together, but this contest is not just about leading the Scottish Labour Party. I want to win the hearts and minds of Scots to win the next election and become the next first minister.
"I believe I best represent this new voice - a voice for the future - for Scottish Labour and for Scotland."
Over the weekend, Labour's Scottish executive backed plans to give the party in Scotland greater autonomy - including a bigger role for the Scottish leader.
No timetable has been finalised for the Labour leadership, but Mr Gray said he would be stepping down in the autumn.