9/11 A Hidden Legacy: Life after IEDs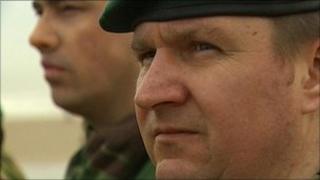 Ten years ago Al Qaeda was virtually unheard of and Osama Bin Laden a name only familiar to those at the highest levels of the security services.
But since 9/11 another term, and its deadly consequences, has entered the language - improvised explosive device, or IED.
More than half of the deaths of servicemen and women in Afghanistan have been as a result of IEDs, but they have also left scores of men, and a few women, with profound injuries.
The first time I went to Afghanistan in 2008 I spoke to bomb disposal experts who were dealing with the devices that had become the insurgents' most effective weapon in their guerrilla war.
When I returned to Helmand in 2010, to make a documentary about the field hospital there, the devastation caused by IEDs was clear.
Three surgeons operating simultaneously on the limbs of one severely wounded casualty had become almost the norm.
Terrible wounds
I wanted to know what happened to the young men after the operating theatre, even after their rehabilitation at the military's centre of excellence, Headley Court.
That is how I met Colour Sgt Paul "Baz" Barrett and Cpl Jay Hare.
Both were Royal Marines, the physical elite, until a tour of duty in Afghanistan late in 2008 added their names to the IED casualty list.
Baz lost a leg above the knee, most of an arm, several fingers in his other arm and had serious crush injuries. Jay lost his leg below the knee and lost an eye when most of his face was blown off.
Baz and Jay were part of Scotland's only Commando unit, 45, based in Arbroath.
Our small team began following them almost a year ago as they worked on their rehabilitation and, crucially for them, prepared themselves for the day when 45 would return to Helmand without them.
To understand what gave Baz and Jay their determination in the face of terrible wounds we were allowed unique access to 45 Commando. We watched their preparations for deployment and spent time with them in their base in Nad e Ali.
Trying to deal with disabling injuries and trying to put your life back together are daunting in themselves. But to have a television camera filming some of your most private moments was an immensely brave thing for our marines to agree to.
They allowed us into their homes and their treatment sessions. They were open and honest about what had happened to them and about the psychological roller-coaster they were still dealing with.
In return all they asked of us was that we did not portray them as people to be pitied.
'Good effort'
I'm certain the resulting programme 9/11 - A Hidden Legacy does not do that.
Of course you cannot watch young family men endure disfigurement without a certain degree of sympathy. But you can also marvel at their determination, their new skills and, often, their humour in the face of such adversity.
Not to overplay it, but being given access to other people's lives is a daunting responsibility.
When I nervously spoke to Jay after he had watched the finished programme I was hugely relieved when he liked it.
I was proud when, in about the closest military men get to effusive praise, he added: "Good effort."
Jay and Baz - right back at you.
9-11 A Hidden Legacy is on BBC One Scotland at 22:35.