Heart bypass study professor awarded £1m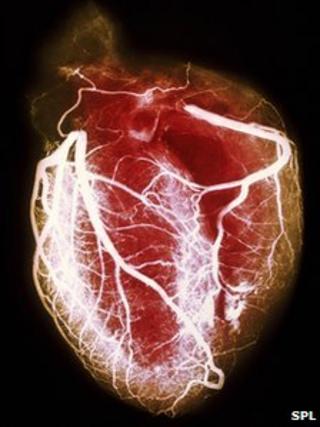 A £1m grant has been awarded to a Scottish professor to help develop treatments to prolong the effectiveness of heart bypass operations.
The British Heart Foundation funding will pay for Professor Andrew Baker and his University of Glasgow team to work on several research programmes.
It will contribute towards experiments and essential laboratory equipment at the university.
More than 200,000 people in Scotland are affected by heart disease.
Prof Baker will become a British Heart Foundation (BHF) Professor of Translational Cardiovascular Sciences.
Translational science is the process of "translating" discoveries made by scientists in the laboratory into new treatments for patients.
In patients with coronary heart disease, arteries supplying the heart with oxygen become narrowed, often resulting in angina, a debilitating chest pain.
It is often treated by heart bypass surgery, where surgeons use a piece of blood vessel - often a vein taken from the leg - to re-route blood flow round a blocked artery.
Prof Baker said: "Treatments like bypass surgery help thousands of patients every year, but unfortunately they often don't last forever.
''We're looking for ways to help patients when they have heart surgery, to stop their symptoms from coming back in the future."
Gene therapy
He recently announced a trial to test a new gene therapy on patients for the first time.
The "DNA therapy" aims to stop vein grafts blocking after bypass surgery, which is said to be a big problem for patients.
About half of vein grafts fail within 10 years of surgery, often leaving patients requiring further treatment.
Prof Baker said: "We're using different tools, including DNA and stem cells, to try to make this happen, and we hope to have new treatments ready for heart patients within the next five to 10 years.
''This award will give me and my team the chance to make faster progress, and we're thrilled we now have the funding we need to reach our goals."
The BHF said it had invested about £37.5m into life-saving research at Scottish universities over the past five years.
Professor Peter Weissberg, medical director at the BHF, said: "We're delighted that Andrew Baker has become our newest BHF professor.
''We're hugely excited by his work, which is on the brink of developing new treatments for heart patients.''