Europe approves remote islands fuel duty discount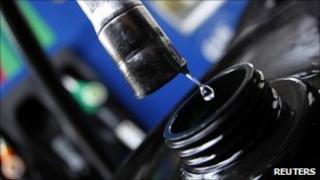 Plans for a motor fuel duty discount for remote island communities have been approved by the European Commission.
The UK government scheme for islands of the Inner and Outer Hebrides, the Northern Isles, the islands in the Clyde and the Isles of Scilly was accepted by Brussels.
The 5p per litre tax discount will apply to fuel consumed on the islands.
Government sources said it could take a number of months for the scheme to be implemented.
The European Commission said rates of taxation on petrol and diesel could be reduced as proposed by ministers.
The announcement is expected to be welcomed by motorists who have been calling for a cut in prices for years.
Fuel on the affected islands is on average 10p more per litre than in other parts of the UK.
Pump savings
UK ministers are not allowed to cut fuel duty without getting permission from Brussels first.
In March, Chief Secretary to the Treasury Danny Alexander, who is Lib Dem MP for Inverness, Nairn, Badenoch and Strathspey, said permission to introduce the discount for island communities had been sought from the European Commission.
A spokesman for the Treasury, which will now have to introduce the scheme, said: "The European Commission decision is a positive step towards delivering cheaper fuel to remote island communities.
"The UK government is working to secure the final agreement of member states and get savings at the pump as quickly as possible."
European Finance ministers will also have to agree it at their next meeting.
Alistair Carmichael, Liberal Democrat MP for Shetland and Orkney, welcomed the news.
He said: "This is the single most important step on the road towards reducing the cost of petrol and diesel in the Isles.
"I am delighted that we have got this consent and hope that the remaining hoops will be a formality to jump through.
"This is Liberal Democrats delivering in government what they promised in opposition."
SNP Westminster transport spokesman Angus MacNeil MP said the scheme could not come fast enough and said there must be no delays.
He said: "We now urgently need to hear what steps the Treasury will take to ensure that rural petrol stations are not burdened by the up-front costs of the scheme.
"Retailers will struggle to meet the upfront costs of the discount, and could wait up to two months to see the discount refunded to them by the Treasury.
"Rural filling stations cannot be left to bear the burden of Treasury delays in refunding the discount.
"This is a Treasury problem and Danny Alexander, as Chief Secretary and as a Highland MP, must step in to ensure that, firstly, the scheme is not delayed and, secondly, that businesses and jobs are not put at risk by Treasury delays."