Sales slump as shoppers cut back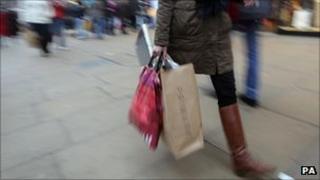 Shoppers pulled back on spending last month, according to the latest figures from the Scottish Retail Consortium.
It registered its second worst annual drop in 12 years, with a 0.7% fall in total sales last month compared with August 2010.
Like-for-like sales, which do not include new stores that have opened in the last year, were down even further at 2.4%.
Consumer confidence was still much weaker in Scotland than in the UK.
Richard Dodd, Scottish Retail Consortium head of media, said: "There's little to be optimistic about here.
"After May's minus 1.1%, this is the second worst annual drop in total sales since we began compiling these figures in 1999."
Mr Dodd said most parts of Scottish retailing were suffering, with sales of non-food goods down for the fourth month in a row.
"Food and drink sales were up slightly but by less than inflation, meaning that people actually bought less," he said.
"The coldest August weather since 1993 was no help but it's the impact of job fears and falling spending power that has left customers in Scotland less confident than those in other parts of the UK."
A Scottish government spokesman said: "It is clear that the UK recovery is weakening, and the UK government must respond with a 'Plan B' - or 'flexibility' as the Chancellor has stated he would do - to protect the recovery.
"We want to see capital investment to boost economic activity, improved access to finance to help small and medium sized businesses and measures to boost economic confidence and income security."