McCormac report: Trojan horse for Scotland's teachers?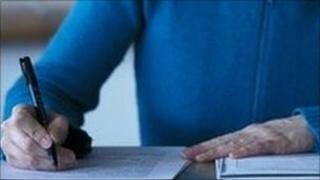 Teachers across Scotland will still be combing through the 67 pages of the McCormac report for important details beyond the initial headlines.
The big question: Is it a Trojan horse with seemingly vague statements paving the way for more significant changes down the line?
The report indicates substantial change is needed as international research indicates Scottish education is treading water despite substantial investment. And children from poorer backgrounds do better in the education systems of other countries.
International research also indicates children's progress is affected far more by the calibre of teachers than by factors such as small classes.
The McCormac report is missing some of the dramatic proposals expected on teacher training. No response, for example, to the controversial call from local councils for the three months of holidays to be cut short to make space for in-service training.
And no response to the call for teachers to be required to spend more than 22.5 hours a week in the classroom.
The panel's refusal is linked to Education at a Glance, a report published on Tuesday by the OECD, which reveals Scots teachers spend more time in class than most of their counterparts in the developed world.
(Every teacher heartily fed-up with a public which appears to think they have it easy, might want to memorise more detail on that point in the OECD report so they can voice it when their patience with critics is severely tested.)
The inquiry team do make an appeal for more rigorous and relevant in-service training to be made available but they do not attempt to enshrine this in dedicated time during the holidays.
That suggestion would have fanned flames. Unions are already urging members to come out on strike in November over pensions.
Teachers feel strongly about their holidays - the ace card they have when comparing themselves with contemporaries who went into better-paid jobs but have less time with their families.
If this or any future Scottish government ever tried to shave holidays they would undoubtedly have a battle on their hands, even with a big pot of money to buy this concession.
A Trojan horse? It is the image that comes to mind on reading the vague paragraphs on performance appraisals. These did come in after the McCrone deal but erratically and according to MCormac, they often "lack credibility".
Those outside the profession have expressed surprise that not even head teachers are subject to the appraisal process which is common in other sectors. It is seen - by some - as a stimulus to better performance.
McCormac recommends in a vague way that a revamped appraisal process is linked to the re-accreditation process in the pipeline at the General Teaching Council of Scotland.
Ann Ballinger, general secretary of the Scottish Secondary Teachers' Association, is concerned that this raises the possibility of regular competence checks which conceivably might lead to some teachers being removed from the professional register.
McCormac concludes that pay levels are "acceptable" and does not recommend a pay rise, a relief no doubt for a Scottish government with currently not much in the coffers.
Tuesday's OECD study indicates Scottish teachers are the ninth best paid in the developed world. Primary teachers are particularly fortunate as it is rare in the world to be on the same salary scale as secondary staff.
Cold comfort for teachers perusing and pondering the vague clauses in the McCormac report which the Scottish Government may - or may not - act upon.