Edinburgh to light Paralympic torch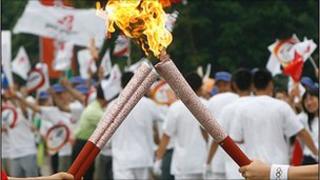 A Paralympic torch is to be lit in Scotland's capital in the run-up to the 2012 Games in London, organisers have announced.
The London Organising Committee of the Olympic and Paralympic Games (Locog) has released plans for the Paralympic torch relay around the UK.
It will arrive in Scotland on 26 August for a flame-lighting event and Flame Festival in Edinburgh.
The torch will tour the UK ahead of the Games, which begin on 29 August 2012.
The flame-lighting method for each UK nation will be announced closer to the time of the Paralympic torch relay next year.
Each of four flames will be lit by the power of physical "human endeavour".
The relay will start in London on 24 August before moving on to Belfast, Edinburgh, Cardiff and Stoke Mandeville, where the four flames from the previous days will be combined into one and then taken by 580 torchbearers to London's Olympic Stadium.
Edinburgh is also one of the Scottish stops on the route of the Olympic torch relay, which is touring the UK from 19 May next year in the run-up to the London Games. The relay takes 70 days and involves 8,000 torchbearers.
The Olympic torch will also visit Glasgow, Inverness, Orkney, Shetland, Isle of Lewis, Aberdeen and Dundee.