MSPs may sit longer at Holyrood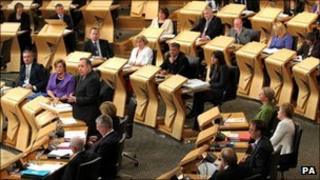 MSPs may have to spend more time sitting at the Scottish Parliament, amid concerns over the current Holyrood working week.
The parliament's presiding officer, Tricia Marwick, has suggested meeting three afternoons a week.
Parliament currently sits on Wednesday afternoon and on a Thursday, while committees meet all day on Tuesday and Wednesday morning.
Holyrood's standards committee is examining possible changes.
They could also see a shake-up of ministerial and first minister's questions.
In a letter to the standards committee Ms Marwick said the current gap, where parliament rises on Thursday evening and does not meet until the following Wednesday afternoon, meant MSPs were not able to respond to urgent issues.
She wrote: "I consider this to be a weakness that could be addressed by, for example, the parliament meeting in plenary session on three afternoons a week, ie Tuesday to Thursday, to reduce the times during which the parliament is not able to consider issues.
Ms Marwick also said themed question time, where MSPs get to grill ministers, was poorly attended and was not working out.
Standards committee convener Dave Thompson, said: "The parliament is now 12 years old and this is a timely opportunity early in the new session to consider reform of the parliamentary week.
"There is a desire amongst members for more spontaneity in the chamber and for chamber business to be more responsive to topical issues."
The committee is due to make recommendations on re-working the parliamentary week by Christmas.
It will investigate:
Benefits of changing chamber and committee sitting patterns
Benefits of changing the format and regularity of question times
How to make best use of chamber time
The potential to introduce new forms of business into the chamber