Treasury 'threat' over Scottish budget cuts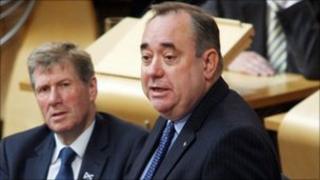 The first minister has accused Treasury chief Danny Alexander of "threatening" the Scottish government over increases in public sector pension contributions.
Alex Salmond asked for a delay in the move, due next April, which affects NHS staff, teachers, police and firefighters.
The first minister said he was told the Scots budget would be cut by more than £8m a month if the change was not made.
Mr Salmond read out the letter during question time at Holyrood.
Unions and the UK government have been in talks over pension contribution rises since the beginning of the year, with ministers saying the change is needed to make schemes sustainable in the face of an ageing population.
The first minister said Finance Secretary John Swinney had received "an extraordinary letter, even a threatening letter" from Mr Alexander, a Scots Lib Dem MP, in response to a "reasonable" request for the UK government to consider delaying increased pension contributions until the current pay freeze was over.
Reading from the letter, Mr Salmond told MSPs: "If you decide not to take forward these changes, the Treasury will need to make corresponding adjustments to your budget. I would have to reduce the Scottish government's budget by £8.4m for every months' delay."
The first minister added: "You can call that letter many things, but it doesn't seem to me either liberal or democratic."
In the letter, Mr Alexander told Mr Swinney that the Hutton Report on pension reform set out a "clear rationale" for increasing member contributions.
He stated: "We are all living longer, with current pensioners expected to spend 40% of their adult lives in retirement, compared to 30% for pensioners in the 1950s.
"Most of these extra costs have fallen to employers and taxpayers."