Scottish school heads join pupil improvement group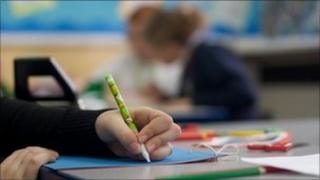 Three head teachers and two former heads have joined a working party to look at ways of improving attainment among pupils in Scotland's schools.
The team of five - including head teachers Val Corry, Lindsey Robertson and Arlene Black - will advise Education Minister Mike Russell.
Retired head Brian McAlinden and former head Anne Paterson will also be members.
The group will deliver its proposals by the end of the year.
Mr Russell said he had set up the group to establish best practice and maintain an education system that was continually improving.
He added: "I firmly believe that our teachers and school leaders are the ones who can make a real difference to our record on attainment and that's why I've set up a group of people who have wide-ranging experience of leading learning and teaching in schools and beyond to have an intensive look at what more can be done.
"There's no doubt that pockets of best practice and genuinely great ideas exist.
"This group will be considering many of these and using their knowledge and experience to recommend the best approaches to raise attainment across Scotland."
Who is in the team?
Arlene Black
Ms Black has embarked on her 12th year as a head teacher. She holds the post at Williamston Primary, West Lothian. Ms Black was previously head at Harrysmuir Primary School, also in West Lothian
She said: "I am delighted to have been offered the opportunity to share my experiences as part of the newly established attainment group and to help shape future experiences for our children and young people. As professionals within the teaching profession we learn best from one another and if I, as part of this group, can help any colleague to have a 'light bulb moment' and positively impact on the future of the pupils in their care then I will feel truly privileged and humbled."
Brian McAlinden
Mr McAlinden spent 25 years as senior manager in secondary schools. For nine years he was head of Castlemilk High and principal of the Castlemilk High Learning Community. Since August 2010, Mr McAlinden has worked as an education consultant supporting individual schools and local authorities and has also been working with Education Scotland/LTS on a number of projects.
He said: "I am passionate about the welfare of young people and in their success at school. During my spells as Depute Head and Head Teacher I was fortunate to work with many talented people who were ambitious for young people, both teaching and support staff. This positive experience confirmed for me that what matters most in making schools better is high quality learning and teaching."
Anne Paterson
Ms Paterson is currently a quality improvement manager in Argyll and Bute. She has previously worked as a quality improvement officer and as a head teacher. She was awarded Scottish Headteacher of the Year Award in 2006.
She said: "I am delighted to be part of the attainment group and to work with like minded colleagues to explore how Scottish education can realise higher achievement and attainment for all pupils. My mantra is that good is not good enough for our pupils. We should aim higher."
Lindsey Robertson
Ms Robertson had been head teacher of Edinburgh's Abbey hill and Sciennes Primary Schools. She is currently head of Castleview Primary School in Edinburgh.
She said: "The cabinet secretary has made a courageous decision by setting up the attainment group. Each of us has considerable experience in raising attainment in Scottish schools. Curriculum for Excellence should now embed attainment by focusing on achievement and ambition for all."
Val Corry
Ms Corry is Head Teacher of Balfron High School, Stirling, and has been in senior management in schools since 1996. She was an assistant headteacher and depute head in Wallace High School in Stirling. Prior to teaching, Ms Corry worked in the iron and steel industry.
She said: "We are in an rapidly changing world and young people need to have the skills and qualities to succeed in the 21st century. This includes higher attainment within a framework of higher achievement."