Scottish police fears over London Olympics leave ban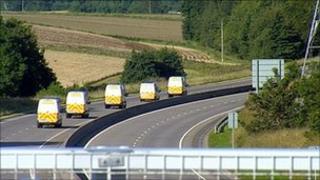 Scottish police officers have raised concerns about annual leave being cancelled during next year's London Olympics.
The Scottish Police Federation said there had been no official announcement on the issue but it was expecting one.
Up to 1,000 officers from north of the border could be sent to London with others put on standby.
All officers are expected to be banned from taking holidays during July and August.
The Association of Chief Police Officers in Scotland (Acpos) said the details of how many Scottish officers would be involved in the Games had still to be confirmed and annual leave would be "managed in a detailed manner".
Les Gray, chairman of the Scottish Police Federation, said he had "real concerns" over the knock-on impact a holiday ban might have.
He said: "We have been asking for the past two years if there would be a ban on annual leave during the Olympics and we have repeatedly been told 'no'.
"But now were are hearing that there will be restrictions, although that is not official yet."
He said he believed "restrictions" meant a total ban on annual leave.
It is thought the recent riots in England have increased fears that similar trouble could flare up during the Olympics, so more officers will require to be on standby.
Riot-trained officers from Scotland were sent to English cities to help tackle the disorder last month.
In Scotland, officers are allocated strict leave periods when they can take their holidays.
Mr Gray said a ban during the summer months would mean more officers having to take their holidays at the same time and could cause ongoing rota issues during the months of September, October and November.
He also said officers with young families would be particularly disadvantaged as they would be unable to take leave during the school summer holidays.
Mr Gray added: "It will create a logjam and throw our annual leave system into turmoil. That will be demotivating for officers."
The Scottish Police Information and Co-ordination Centre (S-PICC), run by Acpos, will be responsible for handling requests for Scottish officers to be involved in Olympics.
Assistant Chief Constable Cliff Anderson from S-PICC said: "The London 2012 Olympic and Paralympic Games will require the largest peacetime policing operation ever.
"Detailed planning is under way but it is not yet confirmed how many officers will be on duty to police the games.
"Olympic events will take place in cities across the UK including Scotland and police forces throughout the country will assist with policing the events either directly or through the provision of mutual aid."
He added: "Given the scale of the policing operation, annual leave will be managed in a detailed manner balancing the need to ensure there are sufficient officers available to police the events and the every day demands placed on forces while recognising the welfare of officers and their families."