Dundee's Abertay University makes stand-alone pledge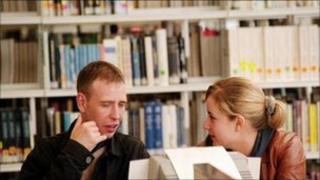 One of Scotland's smallest universities said it aimed to remain an independent institution, despite the possibility of mergers in the education sector.
Dundee's Abertay University received a letter from the government's Scottish Funding Council asking it to give an "evaluation and analysis" of its role.
The university has been asked to submit its views given the "rapidly-developing financial and policy context".
Education Secretary Mike Russell revealed the mergers plan last week.
In a pre-legislative white paper, the minister told the parliament: "Ideally I would wish to see emerge regional groupings of colleges, with a spread of specialist, higher-level and access-level provision delivered locally, greater collaboration between universities, with the possibility of mergers where that makes educational and financial sense."
The Scottish Funding Council, which is responsible for handing out £1.5bn each year to colleges and universities, said it was working with the government to help deliver Mr Russell's proposals.
Education funding is expected to be affected by a proposed new round of cutbacks in the Scottish government's spending review which will be presented by Finance Secretary John Swinney on Wednesday.
The funding council letter to Abertay officials had also asked it to delay appointing a new principal.
The university has forged a reputation for strong links with industry and for pioneering research in computer games.
It also has above average success in attracting students from poorer backgrounds.
But with 4,250 students it is one of the smallest universities in the UK and is located close to Dundee which has more than 17,000 students.
With only a minority of its income coming from sources, such as research grants and overseas students, it is dependent on the Scottish government for 60% of its funding.
A spokesman for Abertay University confirmed that the chairman of its Court - which is its governing body - had received the letter from the Scottish Funding Council.
He said: "The court is considering its response in the context of the University's Strategic Plan for 2011-2015 for Abertay to continue 'as a vibrant and independent university developing across several crucial and exciting areas' and in the context of the government's White Paper on post-16 education in Scotland, published last week, which could offer many opportunities for Abertay to continue to develop what it does best."
Mary Senior, Scottish official of the University and College Union, which represents academic staff said it would be monitoring any merger proposals.
She added: "It is not always shown that mergers equal cost savings and mergers cannot be seen from just a financial angle."
Future mergers may not just be between universities. In the past leading figures in education circles have suggested the case for some universities merging with further education colleges.
Abertay's neighbouring university, Dundee, said it was "not currently involved" in any discussions "relating to the communication between the Scottish Funding Council and the University of Abertay Dundee".
A spokesperson added: "We are happy to engage in any discussion with other educational institutions - schools, colleges and universities - relating to the post-16 educational journey, particularly within Tayside."