Scotland's hotels outperforming the rest of the UK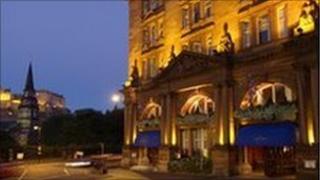 Scotland is becoming a hospitality hotspot, according to the latest report by accountants and business advisers PKF.
Scottish hotels continued to have higher occupancy and revenues during July compared with the rest of the UK.
Year on year occupancy levels in Scotland rose by 2.6% to 82.8%, while in regional England occupancy levels rose by 3.5% to 80.2%.
Room occupancy increased in both Glasgow and Edinburgh.
Alastair Rae, a partner in the real estate and hospitality sector at PKF, said: "This year continues to be positive for the Scottish hotel sector. Whilst an average occupancy of 82.8% is very good it is the rooms yield which is more telling."
Hospitality jewel
Room revenue research produced similar results with increases by 2.7% in Edinburgh 5.8% in Glasgow.
Mr Rae added: ''To have such a high occupancy level coupled with rooms yield, which is almost £12 per room per night higher than the average for the UK, is a sign that the sector in Scotland is doing something right.
''Indeed it would be true to say that the Scottish market is something of a hospitality hotspot compared to the rest of the UK outside London."
Mr Rae continued: "However, Edinburgh remains the jewel in the hospitality crown with occupancy and rooms yield only beaten across the UK by other tourist hotspots such as Bath, Cambridge and Oxford."
PKF's hotel trends surveys have been published since the early 1970s and feature a broad range of hotels in the 3-4 star categories.