Scottish Post Offices get cash grants to diversify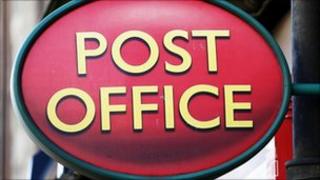 Local post offices across Scotland are to be given cash to help them diversify and offer customers new services.
The Scottish government has announced £1m worth of funding to be shared by 48 post offices in 24 different areas.
Postmasters were asked to apply for the grants and submit proposals for new business activities.
The money, from the Post Office Diversification Fund, will support things such as internet cafes and community enterprise projects.
The 48 successful post offices are each to get grants of up to £25,000.
In Ardvasar in the Highlands, the full share was awarded to develop and extend a garage building for MOT services.
One shop in Kilchattan Bay, Argyll and Bute, was given £25,000 to help create a team room and baby changing facilities.
Enterprise and Tourism Minister Fergus Ewing said: "The Scottish Government's Post Office Diversification fund recognises the important role post offices play in many of our communities.
"From Pollok to Papa Westray - communities across Scotland will benefit from this innovate scheme, which will help to launch new business activities built around post offices.
"Postmasters have come forward with a variety of strong proposals to develop new revenue streams such as retailing, selling different goods, or providing a business service not already available in their locality. This fund will support them as they take forward their plans."
Mervyn Jones, from the National Federation of Subpostmasters (NFSP) said: "This crucial support will allow scores of subpostmasters across Scotland to invest in their businesses, to offer additional services to their customers and to help safeguard the future of the post office in the local community."