How will the NHS in Scotland be affected by the budget?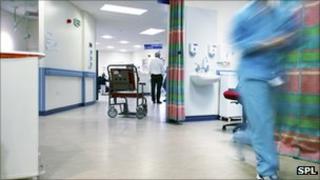 The health service has had it easy for more than a decade.
It's enjoyed above inflation spending increases, pushing spending in Scotland over the European average.
Recently that spending has slowed. On Wednesday it's expected that Finance Minister John Swinney will announce that spending increases will stop.
He won't spell it out like that, of course.
The SNP has repeatedly promised to ring fence the NHS budget.
The health service will probably get more money than it did last year but, because of inflation and other cost pressures, it needs an increase of 4% per year just to stand still.
It's unlikely the budget will increase by anywhere near that amount for the next few years.
Many charities, which rely on money from health boards to fund services, are already feeling the pinch.
Bitter pill
The charity Quarriers has already asked its staff to take a pay cut, sparking strike action. It's just one of many hard decisions its chief executive, Paul Moore, has had to make.
He said: "We had a project in the West of Glasgow which was dealing with people with substance misuse problems and we were making a positive impact: keeping children out of the care system.
"The money for that's been pulled so there's a gap now. What's happening to those children?"
In times of austerity, the temptation is to channel all funding into "acute services" - the hospitals and clinics which deal with illness once it's occurred - rather than investing in the kind of services which prevent people needing those clinics in the first place.
If the NHS is to free up resources to continue preventing disease, as well as treating it, it needs to become more efficient.
The chairman of Forth Valley health board, Ian Mullen, has done that by building a new hospital. Forth Valley Royal hospital has become famous for its robots which carry goods and organise the pharmacy.
He said: "The NHS has to become leaner. If you invest in the redesign of services you can have more patient-friendly services and more effective services."
Service redesign, in Forth Valley's case, meant facing public opposition and closing hospitals at Falkirk and Stirling.
Mr Mullen said: "We've become more efficient by going from two middling Accident and Emergency services to one, all-singing all-dancing emergency service. We've done the same with women's and children's services - really improving the quality and making economies and efficiencies."
Several health boards still have too many hospitals. Centralising those would bring in big savings, allowing them to improve care and invest in preventative medicine.
But it would be a bitter pill for an SNP government elected on a promise to keep local services open.