SNP urged to drop five-year council tax freeze plan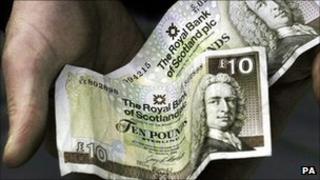 The Scottish government has been urged to consider dropping its plan to freeze council tax for five years, amid claims the policy is unaffordable.
The call from opposition politicians came as Finance Secretary John Swinney prepared to outline his first budget since the SNP's landslide election win.
Council tax has been capped since 2007, and the five-year freeze was a key SNP pledge during the May campaign.
Mr Swinney said he was "determined" to deliver key policies.
Holyrood ministers said the money it received from Westminster would shrink by £3.3bn - or 11% below the 2010-11 level - in the next three years.
The capital budget, which pays for infrastructure projects such as roads and schools, will drop by 36%.
The Scottish government said freezing council tax had helped hard-pressed families but Labour and the Liberal Democrats have questioned how many jobs would have to go to extend the cap for another five years.
The finance secretary has also said the current 12-month public sector pay freeze would need to be extended but promised it would not last for the whole of the five-year parliament.
And while he said there would be no compulsory job cuts in the Scottish government and NHS, he has has not been able to rule out such a move in other areas of the public sector.
Ahead of his budget statement to parliament, Mr Swinney told BBC Scotland the SNP had a "strong record of financial stewardship" by presenting balanced budgets to parliament, and pledged to put the economy at the heart of his spending plans.
"As a priority, the government has looked at its manifesto commitments and wants to take those manifesto commitments forward as part of the spending review," he said.
With tough budget cuts in the years ahead, opposition parties questioned how many manifesto commitments the SNP could implement in government.
'Who pays?'
Scottish Labour leader Iain Gray said: "I always said a five-year council tax freeze seemed just unaffordable, the experts agreed with that - let's see what John Swinney says.
"It's not a promise I'd have thought he can go back on, so, the question is, who's going to pay the price for it?
"Is it public sector workers who are already seeing their jobs going? Is it public sector pay?"
Scottish Liberal Democrat Leader Willie Rennie, whose party previously suggested a two-year freeze, said of the Scottish government: "At a time of great economic difficulty, they need to be reflecting on policies that will deliver economic growth, and I'm just not sure that a five-year council tax freeze will actually put the economy as a priority."
Annabel Goldie, the Scottish Tory leader, said she was "sceptical" that key SNP manifesto pledges could be delivered, and suggested it was time for policies, such as free prescriptions, to go.
"We're busy spending money on free facilities which I don't think we can afford any longer," she said.
Miss Goldie added: "First Minister Alex Salmond wants to be popular all of the time instead of planning for the long-term future by taking realistic decisions at the current time."
Elsewhere in his plans, Mr Swinney is considering public service spending cuts in order to put more cash into capital projects such as housing and transport, by moving resources from revenue to capital budgets.
He has also promised "radical" reform to public services, including more collaborative working and efficiency savings.
The Scottish government has already announced its intention to move towards a single police force, as well as a national fire and rescue service.
Ministers said they had already beaten their efficiency targets, by saving £2.2bn across the public sector.
MSPs are expected to vote on the spending proposals for 2012-13 in the spring.
But with a majority in parliament, Mr Swinney's plans are expected to be unopposed.
Mr Swinney will also outline spending plans for the following two years.