Scots government backs civil servant criticised by MPs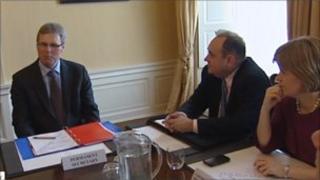 The Scottish government has confidence in its top civil servant who was criticised for failed fire service reforms in England.
Peter Housden was permanent secretary at the department for local government which spent £469m in taxpayers money on the scheme that had to be scrapped.
Sir Peter later moved to Scotland to head up the civil service.
Finance Secretary John Swinney said he had "absolute confidence in the contribution and ability" of Sir Peter.
In a report this week, Westminster's public accounts committee said the Firecontrol scheme had not achieved any of its objectives and that eight of the centres were empty "white elephants".
The plan to replace 46 smaller control rooms was ditched in December 2010.
Margaret Hodge, who chairs the MPs' committee, said the project had been "flawed from the outset" and one of the worst wastes of public money for many years.
She said: "The taxpayer has lost nearly half a billion pounds and eight of the completed regional control centres remain as empty and costly white elephants."
Ms Hodge added that the project - launched in 2004 by the Labour government - had been terminated in 2010 "with none of the original objectives achieved and a minimum of £469m being wasted".
In its report, the committee said: "The careers of most of the senior staff responsible have carried on as if nothing had gone wrong at all."
Ms Hodge defended the committee's decision to name Sir Peter as the man in charge at the department at the time.
She said: "Civil servants walked away without any blame, or accountability, or responsibility for what they did - some of them got promoted. Consultants walked away, probably with lots of money in their pockets, and the taxpayer was left picking up the bill."
Ms Hodge added that MPs would like to publicly name more senior people who are involved in future Westminster probes.
A spokesman for the Department for Communities and Local Government said the failures referred to in the report had occurred in the earlier years of the project, from 2004 and 2008, which it accepted and had learned from.
Speaking to BBC Scotland, Mr Swinney said: "Ministers clearly are accountable for all decisions that they take and in all the civil servants that I work with I have the absolute confidence in their contribution and their ability, and that includes Sir Peter Housden."